MGS Success Case: Products that are tough on packaging machinery
The challenge for consumer goods: Packages that are light yet sturdy
Thanks to the e-commerce boom, consumer goods companies must focus on minimizing costs, reducing shipping time and eliminating product damage, all while delivering products in lightweight, small and eco-friendly packaging. These packages must be able to be stacked on pallets and hardy enough to withstand harsh environmental challenges during transport, such as extreme temperatures and humidity.
Eco-minded consumers are also driving changes to packaging configurations, which result in increased sustainability challenges related to handling alternative materials. Consumer goods packagers need machines that can adapt to multiple SKUs, with world-class overall equipment efficiency to ensure high output.
Challenge: Products that are tough on packaging machinery
A Fortune 100 consumer goods company needed to package sandpaper sheets. While the product itself is sensitive paper that can be scuffed and bent, it is tough on machines. The sheets create dust and grit that can accumulate in the machine components, causing jams and grinding and damaging the machines. When a machine needs to be shut down, production halts to a standstill until it's back up and running. The customer needed a machine that would run efficiently and reliably despite the tough environment.
Solution: Unique features that increase production and safety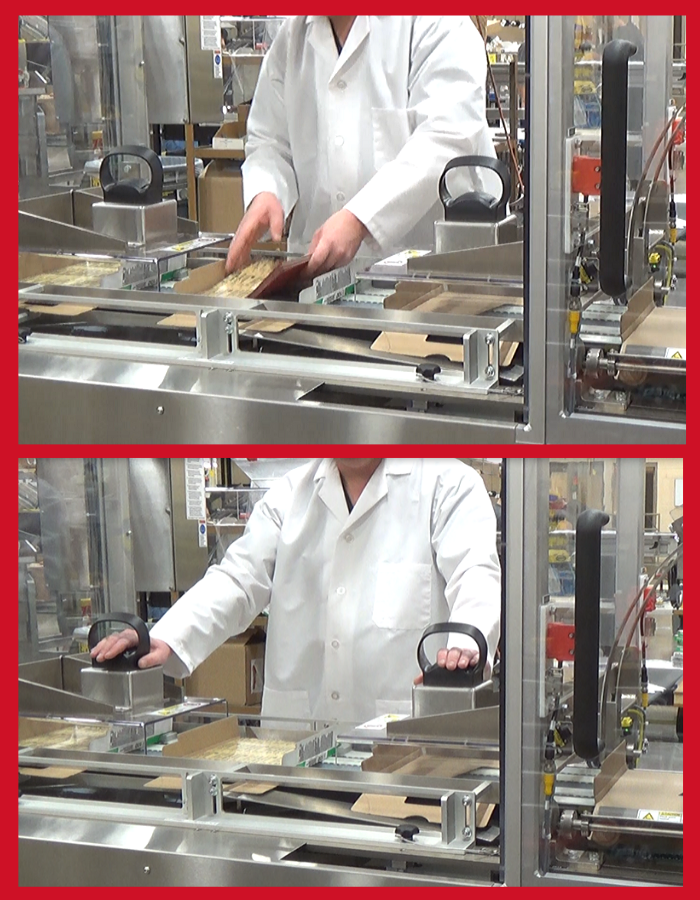 This customer needed a secondary packaging machine that accepted hand-loaded sandpaper sheets. Because of this, a fair amount of custom engineering was involved to keep operators safe. We installed intuitive safety features to ensure all hands are out of the machines while they're in motion. By installing two contact points near where the product was loaded, the operators simply needed to touch the points to activate the machines, rather than having to flip a lever, click a button or have the machine run in scheduled intervals.
These features kept the operators safe as they hand-loaded the sheets, which also helped streamline the process.
To combat the dust and grit from the product, we designed custom components to shield chains and gear parts to help prevent jams. The machine was built with a balcony design, allowing for easy and quick cleanout.
Results
Innovative engineering has kept the machine running for thousands of successful runs without damage from sandpaper dust. Due to the success of this line, the customer ordered other machines with similar technologies to package sandpaper discs and sponges. Today, the original machine is still running smoothly.