MGS Success Case: Fast, Flexible & Simple for Contract Packagers
Fast, flexible, simple: The life of a contract packager
In the contract packager world, speed is of the essence. To accommodate short runs, they need flexible machines with quick and easy changeovers. They don't have time for long lead times typically associated with building custom, complex machines. With space at a premium, their machines need to have a small footprint and be simple to operate.
Challenge: Selecting the perfect machines
A pharmaceutical contract packager was searching for two flexible, high-speed cartoners. They looked at several suppliers, comparing must-have components such as reliability, changeover time, speed to market, price and ease of doing business. They chose MGS because we could get their solutions to them faster, meaning they could be manufacturing product months earlier than anticipated. They also liked that we had worked to establish a long-term relationship with them from the very beginning.
Solution: Delivering cartoners that do it all
We sold the customer two cartoners that achieve speeds of up to 400 cart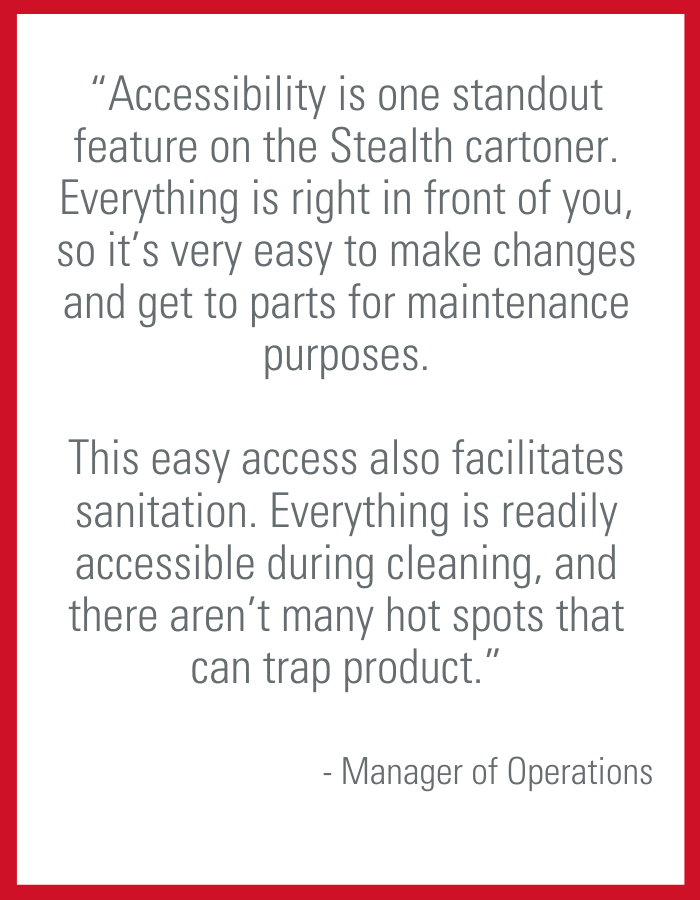 ons per minute. Built specifically for the pharmaceutical market, the cartoners boasted quick changeover times and were capable of handling the industry's strict regulations and requirements.
MGS equipped the cartoners with an inspection system that scans pre-printed 128 or 2D barcodes on each carton to confirm the product is placed correctly, and an open-flap detection system to ensure quality.
To help eliminate waste, the machines don't feed a carton if they don't see product — and vice versa. The cartoners also have embossing units that add the lot and expiration date to each carton. They can be equipped with standard or custom infeeds to handle primary packaging such as bottles, blister cards, tubes, vials and more. They also have additional capabilities to inspect, emboss and insert literature, and feature a balcony design that provides all-points access for fast end-of-run cleanout.
Results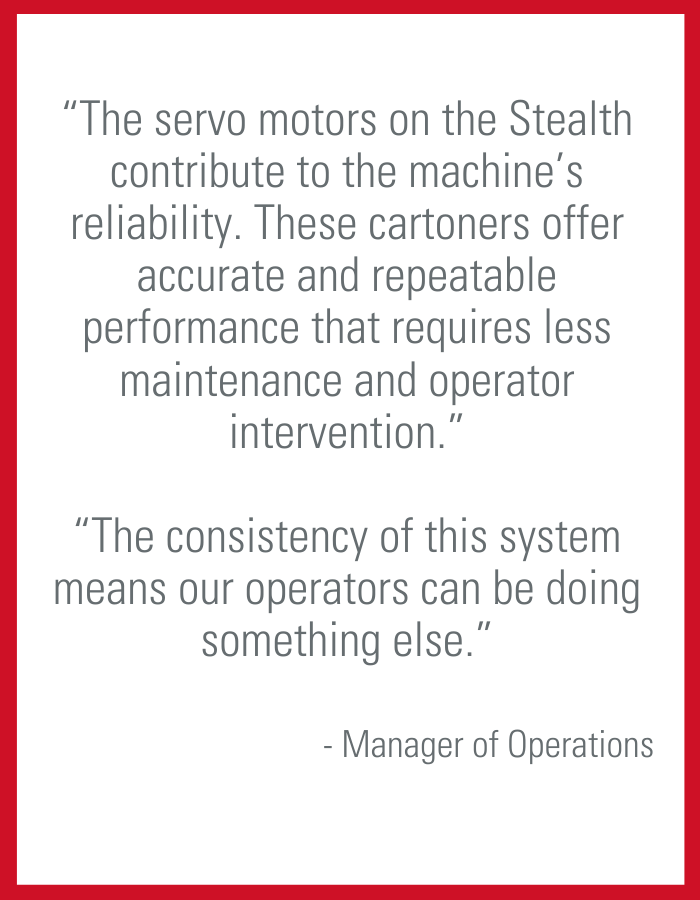 The drop-in-style tooling eliminated mechanical adjustments and led to the ability to handle multiple applications, reducing changeover time from more than an hour to just 15 minutes.
While other tooling types require "dialing it in" when making adjustments — resulting in the waste of expensive product — these machines ensure that the first product out is good.
The customer trusted us to deliver, and our project management team ensured their requirements were heard and met, their budgets and schedules were honored, and that they had a single point of contact throughout the process.