MGS Success Case: Food (packaging) for Thought
Food Packaging for Thought
The increased globalization of the food industry has led to special challenges for both food processors and packaging machine manufacturers. Faced with customers' preferences for eco-friendly, sustainable materials, manufacturers need machines that can efficiently handle delicate packaging at a high rate of speed.
Food packaging trays and containers are easily susceptible to damage when handled improperly, and can reflect poorly on the product's quality. In addition, manufacturers must often work with food-handling machines that are fully caustic wash-down and come with numerous food safety features.
Challenge: Customizing machines for a harsh plant environment
A value-added reseller sold two base MGS product-handling machines to one of the world's largest fruit and vegetable processors, with little consideration for their application. As a result, the machines weren't quite the right fit "as is." Produce leaves from upstream equipment were falling into the machines and blocking sensors, causing the machines to fail.
When MGS learned about the issue, they sent engineering and technical service to the facility to help troubleshoot the machines. While they worked as designed, the machines needed some modifications to withstand the customer's current plant environment.
Solution: Providing excellent customer service that went above and beyond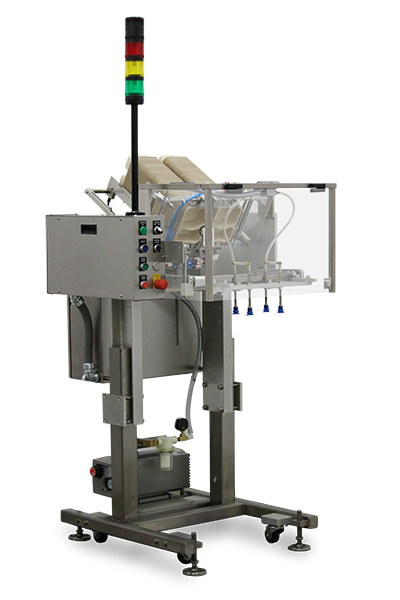 To ensure the customer experienced minimal downtime, we performed the modifications onsite. Our engineers developed a canopy to shield the machines and help prevent contaminants from blocking the sensors. They also upgraded the materials on several machine components to provide long-term functionality in the cold, damp environment. These upgrades have become the gold standard for these types of machines.
In addition, the engineers made sure the machines could work in pairs to handle the client's dual conveyors. These tweaks ensured the downstream processes could keep up with the upstream processes, keeping the entire line free from bottlenecks.
Results: Increased output and long term partnership
The customer had a goal to increase output by 100% with no hires. Thanks to the success of this project, they achieved that goal.
Because of our hands-on collaboration, the customer purchased an additional 14 machines to use in locations around the world. Many of these machines were custom built to meet the stringent standards required for food safety.
More than 10 years later, we are still supporting the customer's machines in plants throughout the United States and Mexico.