Sustainability Drives Packaging Design
Increased demand for ethically sourced, sustainable products and responsible corporate behavior is rapidly changing the packaging industry. Whether the driver for change be consumer expectations or legislation, the world's biggest brands have committed to investing in more sustainable packaging practices.

But what exactly is sustainable packaging?

"Sustainable Packaging" has several factors and the Sustainable Packaging Coalition lists several criteria to help us define it. Though the SPC does not call out one criterion as more important than the other, we've found the below to be very important as we assist customers in meeting their sustainability initiatives.
Design to Optimize Materials and Energy
Proactive decisions in the packaging design phase can mean big sustainability gains, in addition to meeting your cost, performance, and regulatory requirements.
Think about the product's entire life-cycle.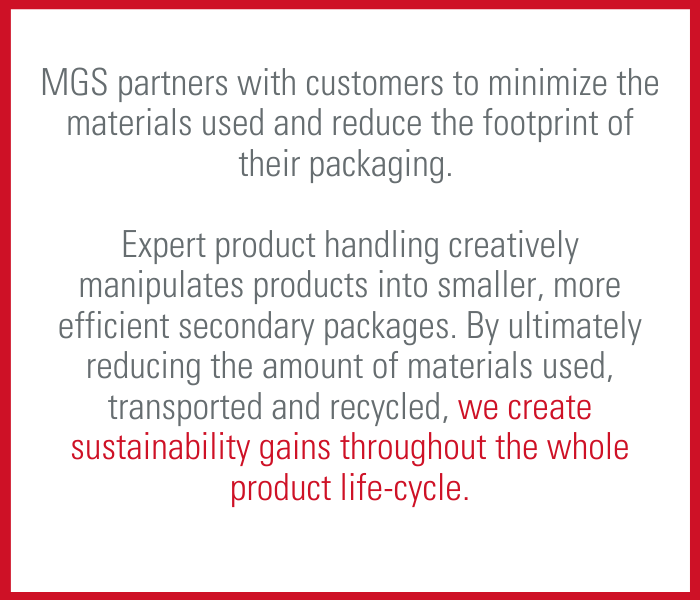 Our goal should be to minimize the energy necessary to create, construct, transport and eventually recycle the package. When designing packaging, eliminate excess materials and wasted space. A smaller, more form-fitting package does more than just reduce the amount of material necessary to package your product.
You can also reduce the footprint of each parcel. This means less space is necessary to stack products in your warehouse and your supply chain will be able to handle the transportation of more units without accruing additional costs.
Use Renewable or Recycled Source Materials
As the demand for material resources grow, we need to consider new ways to use non-traditional or recycled materials for packaging. While this should be a key strategy to meet sustainability initiatives, it comes with its own challenges. Materials comprised of high levels of recycled content do not always perform like the materials they replace, can be difficult to source and more expensive than traditional formats.
An alternative to this might be mono-material packaging. Like its name suggests, mono-material packaging consists of only one material. Many mixed-material packages are rendered completely unrecyclable because the materials cannot be separated from each other - think labels, coatings, etc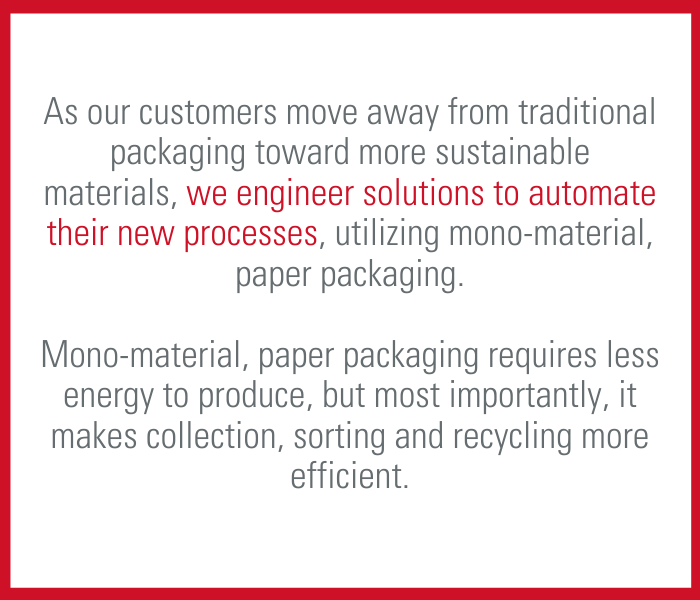 One of the greatest benefits to mono-material packaging is that it's incredibly easy for consumers to sort and recycle – ultimately reducing the need for new resources. In a product's life cycle, the last link is often the weakest. If there is no optimal sorting or retrieval of materials, all prior sustainability efforts are lost.

Together with our customers, we will lead sustainability efforts throughout the industries we serve to better protect the environment for years to come.
Need a partner to help with your packaging sustainability initiatives? Contact MGS at sustainability@mgsmachine.com