Tray Denesting Technologies: Designed for Efficiency and Food Safety
In food processing operations that place food product in trays or tubs, production and filling rates can only be increased as quickly as trays can be separated and placed onto the line. Because of this, manufacturers are turning to automated denesting equipment to replace manual tray placement, increasing efficiency and profitability.
While the trays themselves may be an inexpensive piece of the finished product, tray dispensing labor can be costly. Trays need to be placed on-line in the proper position, every time, in order to avoid spilling product or disturbing processes further down the line. Automated feeding equipment has enabled food manufacturers to accurately pace the line as well as re-dedicate operators to safer, non-repetitive motion tasks.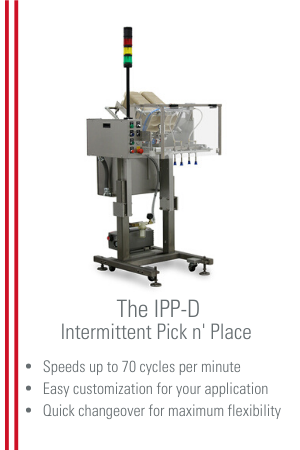 For 40 years, MGS has continually evaluated and enhanced our tray & tub denesting machines, ensuring we achieve accurate placement at the highest speeds possible. We offer a range of both vacuum denesters and rotary screw denesters, ensuring we can provide the best equipment for your application.
In addition to accurate placement at high speeds, MGS has incorporated several design elements into our feeding technologies to specifically serve food industry users who need to repeatedly and aggressively clean their production areas and equipment.  
MSG Offers Both Sanitary Construction and Caustic Washdown Tray & Tub feeders
What is Sanitary Construction?
Machine design impacts more than just cleanability. It also determines how long it takes to clean a piece of equipment. At MGS, our machines are specifically designed for fast, efficient cleaning to reduce the risk of contamination and increase uptime.
FDA approved product contact materials

Cost effective CRS painted frames, clear anodized aluminum, and nickel plated CRS construction

Minimalist design for less surfaces to sanitize and allows for easy wipe down cleaning procedures

Machines can be configured to meet your specific needs, such as upgrading to stainless steel frame but not adding the expense of being caustic washdown
What is Caustic Washdown?
In addition to Sanitary Construction, we offer caustic washdown equipment designed specifically for the harshest food production environments. We are familiar with the standards and guidelines required for this industry and can work with you to deliver a feeding solution that is rated for your specific needs.
High-grade stainless-steel and hard-coat aluminum construction

Able to withstand direct high-pressure spray

Sloped surfaces make machines self-draining and eliminate liquid collection points

Laser etching on parts that require changeovers

C channel open stainless steel frames

"Clean in Place" - clean the feeder in place, even with other equipment running

High Performance controls and upgraded components withstand the toughest production environments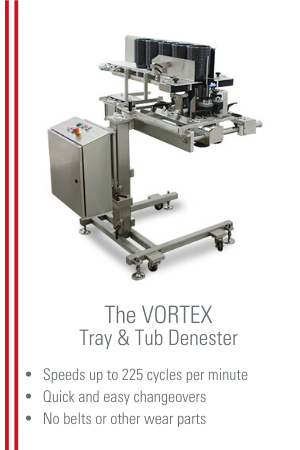 MGS has fielded thousands of tray and tub feeding machines to the world's largest meat, poultry, bakery, produce, confectionery, and dairy producers. If we can assist you in optimizing your production and decreasing the risk of contamination, contact us at info@mgsmachine.com or request more information below.